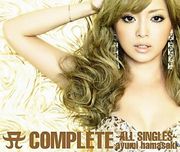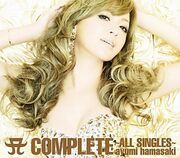 A COMPLETE ~ALL SINGLES~ is Ayumi Hamasaki's fifth compilation album on avex trax. It included all of her A-side singles from debut until her most recent release at the time, Mirrorcle World, as well as a re-recorded version the song "Who..." to commemorate her 10th anniversary in 2008. The China, Malaysia, Hong Kong and Taiwan releases featured a version of the song sung completely in Mandarin Chinese. The limited first pressing of the 3CD+DVD edition also included a 48-page photobook featuring alternate covers for each of the singles.
Release Date
10 September 2008 (Japan)
19 September 2008 (Taiwan)
22 September 2008 (Hong Kong 3CD)
15 October 2008 (Hong Kong 3CD+DVD)
1 November 2008 (China)
Stock Numbers
AVCD-23673 (Japan 3CD+DVD)
AVCD-23676 (Japan 3CD)
AVJCD-10370/2 (Taiwan 3CD)
AVJCD-10370/B (Taiwan 3CD+DVD)
AAJCD-20024/6D (Hong Kong 3CD+DVD)
Tracklist
Edit
Disc 1
Disc 2
Disc 3
Track 14 on China, Malaysia, Hong Kong and Taiwan editions:
Who... (Chinese version) (05:37)
Limited TA Live Tour: ZEPP TOKYO 2003.5.27
Edit
Real me
poker face
Depend on you
TO BE
YOU
Dolls
A Song for XX
SURREAL
evolution
RAINBOW
a-nation '02: 2002.9.1
Edit
evolution
HANABI
Voyage
a-nation '03: 2003.8.31
Edit
forgiveness
Boys & Girls
a-nation '04: 2004.8.31
Edit
GAME
Moments
Greatful days
a-nation '05: 2005.8.21
Edit
fairyland
is this LOVE?
a-nation '06: 2006.8.27
Edit
UNITE!
A Song for XX
a-nation '07: 2007.8.26
Edit
until that Day...
July 1st
Boys & Girls
Produced by max matsuura

Mastered by Shigeo Miyamoto at THE MASTER
trk 14 (DISC-3): Directed & Recorded by Koji Morimoto
A&R: Kentaro Furusawa (avex trax)
A&R Direction: Hidetomo Yoneda (avex trax)
Artist Management: Kouji Hashimoto, Tadashi Urakami, Masaaki Gyobu (avex entertainment inc.)
Artist Brand Management: Motohiro Abe (HEARTSAVER inc.), Hideki Endo (avex entertainment inc.)
Visual Producer: Kiyoshi "Utsumizm" Utsumi (avex group)
Team Ayu: Kazuki "Mr." Okabe (avex entertainment inc.)
Media Promotion: All Media Division Promotion Room Staff (avex entertainment inc.)
Sales Promotion: Jun Yogi, Takashi Saigo & All AMI Staff (avex marketing inc.)
Concerts Coordination: Shinsuke Abe (avex marketing inc.)
Web Designer: Yukiko Ito, Makiko Kotera (avex marketing inc.)
A&R Desk: Kumiko Yoshida, Tamoko Miura (avex trax)
A&R Supervisor: Hiroshi Ishimori (avex trax)
A&R Executive Supervisor: Jun Harada (avex trax)
General Producers: Shinji Hayashi, Takashi Araki, Ryuhei Chiba (avex group)
Art Direction: Shinichi Hara
Design: Hirotomi Suzumoto (MOMOYA)
Photographer: Kazuyoshi Shimomura (AVGVST)
Assistant Photographer: Satoko Mitomi
Hair: Kazuyoshi Takahashi (ZACC)
Assistant Hair: Hiroyuki Kuramoto (ZACC)
Stylist: Kei "Okei" Ito (ab fab)
Assistant Stylist: Yuko "Dj" Honda (ab fab)
Costume Director: Akira Noda (Workaholik)
Nail Artist: Kanako "Bancho" Miura (Three Peace)
Assistant Nail Artist: Shingo "Minazo" Sano
Make Up: Jin "Gori" Kiyota (Rond.)
Assistant Make Up: Yuya "Ezoko" Ezoe
Trainer: So Nagashima (tune-up)
Costume Support: SWAROVSKI
Location Coordination: Luis Hernandez (Day O Production, Inc.)
Location Support: Stanly Izumi Kim (s.i.k.e)
Location: MGM GRAND Macau
Creative Coordination: Naoki Ueda (avex marketing inc.)
CG Treatment: Makoto Harikae, Hiroko Tanaka, Toru Sakuma (amana)
Quality Control: Masashi Shinabe, Toshiyuki SUzuki (avex marketing inc.)
DVD Authoring: Yohei Sato (avex marketing inc.)
Support:
Junichi "nonchan" Kamitoku, Mikajohn <3, Tetsuya "Hige" Hirakawa,
Keizo Kuroda, Kazahisa Kurumizawa (Three Peace),
Satomi Masubuchi, Shouko Miki (ZACC), Rex Schaumieffel, Ward Sexton,
Katsutaka "Numacchi" Numakura (Office Lift), Jun Yoshita (ISM)
Promotional Materials
Edit