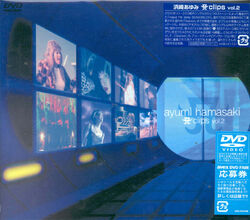 A clips vol. 2 is Hamasaki Ayumi's third PV collection to be released on home video. It was released on VHS and DVD in Japan, and VCD in Asia.
The version of "Endless sorrow" included on this release differs from the version originally broadcast on TV. In the TV version, Ayu never appears except in the form of posters for the "Endless sorrow" single. However, a closing scene featuring Ayu was shot especially for the A clips vol. 2 release.
Release Date
Stock Numbers
AVBD-91101 (JP DVD)
AVVD-90144 (JP VHS)
Tracklist
Edit
TV-CM
BONUS TRACK
Producer: Kiyoshi Utsumi (to max inc.)
EED: Hiroshi Suzuki (TWINKLE LAND), Jyunya Akahoshi, Makoto Shimizu, Daisaku Kuroki, Kenji Suzuki
MA: Syouichi Irako (TWINKLE LAND), Shinichi Touji (TWINKLE LAND)
produced by max matsuura
written & composed by ayumi hamasaki
Sound Produced by Naoto Suzuki
Production Assistant: Yuka Akiyama (prime direction)
A&R + Directed by Yasuyuki Tomita (avex trax)
A&R Coordination Chief: Nobuhito Ikehata (avex trax)
A&R Supervisor: Hidemi Arasaki (avex trax)
Executive Supervisor: Katsuro Oshita (avex trax)
Artist Management: Yuka Kikuchi, Junichi Kamitoku, Kouji Hashimoto (axev inc.)
Artist Promotion: Toshiyasu Takahashi & avex Domestic Repertoire Promotion Dept. 3, Akira Akutsu & axev inc. Advertisement Division
Sales Promotion: Tomotsugu Ota, Kazuo Kosugi, Akihiro Terada, Yasuhiro Yamamoto, & All avex distribution Staff
Writer: Kazuki 'Mr' Okabe (prime direction inc.)
Advisory Producers: Ryuhei Chiba, Motohiro Abe (axev inc.), Ryuzo Shoji (to max) Yoshihisa Nagata (prime direction inc.)
General Producer: Shinji Hayashi (avex trax)
Specially Coordinated by Tom Yoda (avex group)
Art Direction: Shinichi Hara
Design: Takuma Noriage (RICE)
Creative Coordination: Naoki Ueda (avex trax)
89,531 copies sold
Ad blocker interference detected!
Wikia is a free-to-use site that makes money from advertising. We have a modified experience for viewers using ad blockers

Wikia is not accessible if you've made further modifications. Remove the custom ad blocker rule(s) and the page will load as expected.