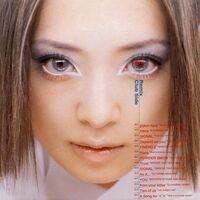 ayu-mi-x is Ayumi Hamasaki's first remix album. It was sold as a two-CD set, one disc being the "Remix Club Side," and the other being the "Acoustic Orchestra Side." Each side has its own specific identity and style of cover photo. The release was announced even before the official release date of the A Song for XX album, however, it was not in stores for several months.
Many remixes were done during the production time for the album, however they did not make the final cut. They were sold in mid- to late-1999 on several 12" vinyl releases. Several of these remixes (many in edited versions) later appeared on the reissued singles in 2001, however several edits, instrumental versions, and vocal tracks have never been released on CD.
Release Date
Stock Numbers
AVCD-11716 (Japan)
AVTCD-95240 (Hong Kong)
AVJCD-10010~1 (Taiwan)
AVJMC-10010~1 (Taiwan Cassette)
Tracklist
Edit
ayu-mi-x Remix - Club Side
ayu-mi-kkusu Acoustic - Orchestra Side
Produced by max matsuura
All Lyrics written by ayumi hamasaki
production coordination on remix - club side & lovers cuts:
masaji asakawa, hiroyuki odashima (ARTIMAGE INC.)
Sound Produced by Naoto Suzuki (Acoustic - Orchestra Side)
Recorded by Atsushi Hattori (STUDIO SOUND DALI)
Recorded at Prime Sound Studio Aoyama, SOUND INN STUDIOS
Mixed by Atsushi Hattori (STUDIO SOUND DALI)
Mixed at Prime Sound Studio Aoyama, Studio Sound Dali, Paradise Studio Komazawa
Assisted by Noriki Inada (STUDIO SOUND DALI)

Junichi Hourin (SOUND INN STUDIOS)
Kiyoshi Satou (Paradise Studio Komazawa)
Shigeki Takasaka (Paradise Studio Komazawa)
Production Assistant: Yuka Akiyama (prime direction)
mastered by Shigeo Miyamoto (JVC VICTOR STUDIO)
A&R: yasuyuki tomita (avex trax)
artist management: yuka kikuchi, junichi kamitoku (axev inc.)
artist promoter: Tatsuya Ikeda (avex trax)
sales Promoter: kentaro furusawa (avex distribution)

yasuhiro yamamoto(avex distribution)
Art Direction: shinichi hara
Design: michiho ogasawara ( RICE)
Photography: toru kumazawa
Styling: koji matsumoto
Hair & Make Up: chu, tamotsu (Too-RUSTIC)
nail artist: kanako miura (Studio V)
Advisory Producers: Ryuzo Shoji (prime direction)

Yasuo Shibata, Ryuhei Chiba, Ayumu Kurose (axev inc.)
General Producer: Shinji Hayashi (avex trax)
Specially coordinated by Tom Yoda (avex group)
Oricon Sales Chart (Japan)
Chart (1999)
Peak
position
Time in
chart
Japan Oricon
4
28 weeks
Total Sales: 396,800 (Japan)
"Honestly, when my producer max matsuura talked about remixes, there was resistance on my part, I wasn't at all OK with it... This remix album is something my producer and I talked about and decided on together, but remixes are something I don't really understand... But, this is a producer who's been influenced for years, decades even, by dance music, and has worked alot on the "remix" genre, so he really stuck with explaining it to me, and eventually I came to an agreement with him."

-Ayumi Hamasaki, beatfreak Magazine
"Because I like simple feeling things like acoustic songs, I told the producer 'If we're gonna do remixes, then we're gonna do acoustic versions too!'... I think they'll probably sound interesting to people who hear them."

-Ayumi Hamasaki, beatfreak Magazine
Promotional Materials
Edit
Ad blocker interference detected!
Wikia is a free-to-use site that makes money from advertising. We have a modified experience for viewers using ad blockers

Wikia is not accessible if you've made further modifications. Remove the custom ad blocker rule(s) and the page will load as expected.