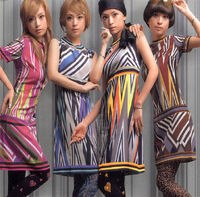 ayu-mi-x II is a series of four Ayumi Hamasaki remix albums, released in March 2000, following her second album, LOVEppears, and containing songs from that album.
Each of the four albums came in a first-press edition, packaged in a clear glittery jewel case with a clear plastic tray insert. They also included one of four picture cards, which when put together formed one large picture of Ayu.
Arguably also a part of this series are the other side remix singles, which included unreleased extended & instrumental versions of many of the US+EU remixes.
Albums in the Series
Edit
None Available
Promotional Materials
Edit
Ad blocker interference detected!
Wikia is a free-to-use site that makes money from advertising. We have a modified experience for viewers using ad blockers

Wikia is not accessible if you've made further modifications. Remove the custom ad blocker rule(s) and the page will load as expected.