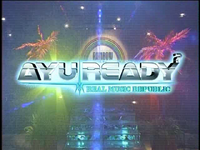 AYU READY?: REAL MUSIC REPUBLIC was a late night TV variety show hosted by Ayumi Hamasaki which aired in half-hour episodes on Fuji TV every Saturday night at 11:30 PM. It debuted on October 12, 2002 and aired until March 20, 2004. It ran for a total of 74 episodes before being cancelled.
The show's format included Hamasaki performing & talking with musicians, comedians, and other celebrities. Guests throughout its run included Tsunku, TRF, Every Little Thing, Kiroro, SONIM, Ohguro Maki, ZEEBRA, w-inds, PUFFY, and Kyoko Fukada.
Six episodes were recap, clip, or outtake episodes.
Episode List
Edit
1
12 Oct 2002

Kitano Takeshi, Tsunku, Makoto

"LOVE ~since1999~" (with Tsunku)
2
19 Oct 2002
DA PUMP
"if..."
3
26 Oct 2002
kuzu
"ikiteru koto tte subarashii"
4
2 Nov 2002
trf, TIM

"samui yoru dakara"

"CRAZY GONNA CRAZY"

"Overnight Sensation"

5
9 Nov 2002
EXILE, Papaya Suzuki with Oyaji Dancers
"your eyes only"
6
16 Nov 2002
Wada Akiko, Fujii Fumiya
"furui nikki"
7
23 Nov 2002
Porno Graffitti

"SAUDAAJI"

"AGEHA chou"

8
30 Nov 2002
Wada Akiko, Fujii Fumiya
"True Love"
9
7 Dec 2002
Nakamori Akina

"DESIRE"

"shoujo A"

10
14 Dec 2002
Every Little Thing

"Dear My Friend"

"YOU"

11
21 Dec 2002
Kyoko Fukada, Paradise Yamamoto

"White Christmas"

"Dearest"

12
28 Dec 2002
Clip Episode (off-shot)
13
4 Jan 2003
Clip Episode (recap)
14
11 Jan 2003
Garage Sale, Kiroro
"nagai aida"
15
18 Jan 2003
Ishii Tatsuya

"kimi ga iru dake de"

"roman hikou"

16
25 Jan 2003
Shimatani Hitomi
"amairo no kami no otome"
17
1 Feb 2003
mach25, tetsu & tomo

"SONG OF THE SUN"

"A HAPPY DAY"

18
8 Feb 2003
Tokunaga Hideaki, gokurakutonbo
"kagayaki nagara..."
19
15 Feb 2003
Tokunaga Hideaki, gokurakutonbo
"kowarekake no RADIO"
20
22 Feb 2003
Matsu Takako, Shimizu Michiko

"ashita haru ga kitara"

"ashita ni kuchizuke wo"

21
1 Mar 2003
Mikawa Kenichi, Hikawa Kiyoshi

"sasori za no onna"

"Kiyoshi no ZANDOKObushi"

22
8 Mar 2003
Oikawa Mitsuhiro, hokuyou
"kyouretsu ROMANCE"
23
15 Mar 2003
Goto Maki, Imada Koji

"uwasa no SEXY GUY"

"Who..."

24
22 Mar 2003
Wada Akiko, Hisamoto Masami

"M"

"RAINBOW"

25
29 Mar 2003
Summer Special
26
5 Apr 2003
Kouichi Iwaki

"Change the World"

27
12 Apr 2003
MINI MONI.
"Rock'n'Roll kenjou shozaichi"
28
19 Apr 2003
Kiyoharu
"Masquerade"
29
26 Apr 2003
Clip Episode (best performances)
30
3 May 2003
SONIM
"CURRY RICE no onna"
31
10 May 2003
Working on RAINBOW HOUSE
32
17 May 2003
Nakamura Tamao, Sekine Tsutomu
"TO BE"
33
24 May 2003
Takeda Tetsuya
"okuru kotoba"
34
31 May 2003
Kano Sisters (Kyoko and Mika)
"Can't Take My Eyes Off of You"
35
7 Jun 2003

Kano Sisters (Kyoko and Mika)

36
14 Jun 2003
The members of Haneru no Tobira
37
21 Jun 2003
Working on RAINBOW HOUSE
38
5 Jul 2003
Umemiya Anna, Nakura Jun
"ourselves"
39
12 Jul 2003
Yanagiba Koshirou, Katsumata Kunikazu
"Greatful days"
40
19 Jul 2003
Kaneko Ken, Nakagawa Ken
"ourselves"
41
26 Jul 2003
Kane Kosugi, Fujii Takashi
"Greatful days"
42
2 Aug 2003
Ohguro Maki
"la-la-la"
43
9 Aug 2003
Ishida Junichi, Aida Shouko
"Greatful days"
44
16 Aug 2003
YU-KI, Mochida Kaori, Van Tomiko, BoA
45
23 Aug 2003
Kuroudo Maki, ZEEBRA
"HANABI ~episode II~"
46
30 Aug 2003
RAINBOW HOUSE Special
"HANABI ~episode II~"
47
6 Sep 2003
Nakayama Hideyuki, YOU
"forgiveness"
48
13 Sep 2003
Jinnai Takanori
"forgiveness"
49
20 Sep 2003
Dream
"I love world"
50
27 Sep 2003
Nakamura Shunsuke, Okada Yoshinori, Tsukamoto Takashi
"kawaii ano ane"
51
4 Oct 2003
Tamayama Tetsuji
52
11 Oct 2003
anri
"OLIVIA wo kikinagara"
53
18 Oct 2003
hanawa
54
25 Oct 2003
Kai Yoshihiro
"anna"
55
1 Nov 2003
Fujiki Naohito
56
8 Nov 2003
Kudou Shizuka
57
15 Nov 2003
Kudou Shizuka

"koi hitoyo"

"arashi no sugao"

58
22 Nov 2003
w-inds.
"SUPER LOVER"
59
29 Nov 2003
Princess Tenko
"No way to say"
60
6 Dec 2003
Kikkawa Kouji
"KISS ni utarete nemuritai"
61
13 Dec 2003
KICK THE CAN CREW
62
20 Dec 2003
Kyoko Fukada
"No way to say"
63
27 Dec 2003
Clip Episode (off-shot)
64
10 Jan 2004
Tamaki Hiroshi
"Because of You"
65
17 Jan 2004
Aikawa Show
"ANGEL'S SONG"
66
24 Jan 2004
Yanagisawa Shingo
"Because of You"
67
31 Jan 2004
Katou Haruhiko
68
7 Feb 2004
Suzuki Masayuki
"LONELY CHAPLAIN"
69
14 Feb 2004
Kakei Toshio
"Memorial address"
70
21 Feb 2004
PUFFY
"kore ga watashi no ikirumichi"
71
28 Feb 2004
Kuroki Hitomi
72
6 Mar 2004
cream stew
"Moments"
73
13 Mar 2004
Clip Episode (recap)
74
20 Mar 2004
Clip Episode (recap)