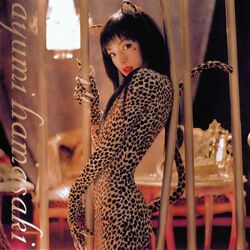 Duty (デューティ) is Ayumi Hamasaki's third album on avex trax. It was released simultaneously with the SURREAL single as well as the home video releases of concert tour 2000 act 1 and act 2. All three releases topped their respective weekly Oricon charts, making Hamasaki the first artist in Oricon history to accomplish such a feat. The album held the number one spot for four weeks, and charted in the top 30 for 20 weeks. With more than 2.9 million copies sold, Duty is Ayumi Hamasaki's best-selling original studio album to date.
The album was recorded from August to September 2000.
Release Date
Stock Numbers
AVCD-11837 (Japan)
AVTCD-95387 (Hong Kong)
SCD-534 (China)
SCD-0780 (China Reissue)
CL-0423 (China Cassette)
AVJCD-10061 (Taiwan)
AVJMC-10061 (Taiwan Cassette)
Tracklist
Edit
Produced by Max Matsuura
All lyrics written by Ayumi Hamasaki
Sound Produced by Naoto Suzuki
Mixed by Masashi Hashimoto (STUDIO SOUND DALI),
Mixed at STUDIO SOUND DALI
Recorded by Atsushi Hattori, Noriki Inada (Hi Five)

Masashi Hashimoto (STUDIO SOUND DALI)
Noriyuki Terayama (THINK SYNC INTEGRAL Co., Ltd.)

Recorded at prime sound studio, Nowadays Studio, STUDIO SOUND DALI, ON AIR AZABU, avex studio
Assisted by Yuichi Nagayama, Fuyuhiko Inui,

Satoshi Kumasaka (STUDIO SOUND DALI)
Hitomi Suzuki (ON AIR AZABU), Takahiro Mikami

Production Assistant: Yuka Akiyama ( prime direction inc.)
Mastered by Shigeo Miyamoto at JVC VICTOR STUDIO
Players coordination (tr. 10, 12): Yumi Kobayashi (quark)
A&R Coordination: Yasuyuki Tomita (avex trax)
A&R Supervisor: Nobuhito Ikehata (avex trax)
Executive Supervisor: Katsuro Oshita (avex trax)
Artist Management: Yuka Kikuchi, Junichi Kamitoku, Kouji Hashimoto (axev inc.)
Artist Promotion: Toshiyasu Takahashi (avex trax)
Sales Promotion: Kentaro Furusawa, Akihiro Terada Yasuhiro Yamamoto (avex distribution)
Advisory Producers: Ryuzo Shoji (to max),

Yoshihisa Nagata (prime direction inc.),
Ryuhei Chiba, Motohiro Abe (axev inc.)

General Producer: Shinji Hayashi (avex trax)
Specially coordinated by Tom Yoda (avex group)
Package Design
Art Direction: Shinichi Hara
Design: Shigeru Kasai ( RICE)
Creative Coordination: Toshikazu Sakawa,

Naoki Ueda (avex trax)

Quality Control: Shuichi Takahashi (avex trax)
Photographer: Toru Kumazawa
Stylist: Koji Matsumoto
Assistant Stylist: Hiroyuki 'Ushiko' Ishii,
Hair & Make Up: CHIKA (HAIR DIMENSION)
Assistant Hair & Make-up: TARO (HAIR DIMENSION)
Nail Artist: Kanako 'Bancho' Miura
Writing Advisor: Kazuki 'Mr' Okabe (prime direction)
Interior Coordinator: Hiromi 'ROMI' Yamada
Interior Support: EiSHiN, DO/KILIWATCH,
Special Thanks to ->
CHU, Tamotsu (Too-RUSTIC)
Someko, hakase, Kosome, Joe (office an-gel)
Kochan, Daisuke, Junpei, Soichiro, hinachan (HAIR DIMENSION)
Noguchi, kitadai, Yamakawa (ZACC)
Kazuhiko Toyama, Junko Shimamura
Natsuki Toyoda (premium promotion)
Tetsuchan (zassoya)
Kenchan, Tate san (Blue point)
HIDEKI, Ryuji (The Funny Company)
KEIICHI, Jyoji, Kohei (RISING CREW)
Aneki, Kaori, AI, Aki, aya, Tomochin
my family... and you <3
Oricon Sales Chart (Japan)
Release
Chart
Peak position
First Week Sales
Sales total
Chart run
September 27, 2000
Oricon Daily Album Chart
1
Oricon Weekly Album Chart
1
1,682,760
2,904,420
27 weeks
Oricon Monthly Album Chart
1
Oricon Yearly Album Chart
2
Total Sales: 2,904,420 (Japan)
Total Sales: 3,000,000 (Avex)
Total Sales: 3,750,000 (Asia)
"Duty" is Hamasaki's highest selling studio album in Japan.
I think [the summer concert tours] influenced the album quite a bit. But it's not just what I got once the tour was over. Like, three songs were done before the tour began ("vogue," "Far away," and "SEASONS"), the way I was at the time is in there, me fighting with myself during the tour is in there, what I was able to do once the tour finally ended is in there, and the time I enjoyed spending by myself afterwards is there. There's an impression of a whole flow of time in the album.:-Ayumi Hamasaki, beatfreak Magazine
...[T]imes are always changing, you know? And everyone can see when the world changes. History is always being repainted like that, one era ends and we can see it happen, we can't be as young as we are now forever, and we can't be onlookers forever...Communicating that is something I thought it was my duty to do at the time.:-Ayumi Hamasaki, beatfreak Magazine
Promotional Materials
Edit
Lucky Draw Prizes
Edit
For several of Ayumi Hamasaki's albums, record stores gave out special prizes to reward early purchasers on release day. People who purchased the album would recieve a random ticket from a box, each with a letter printed on it. The purchaser would then be given the corresponding prize for that letter.