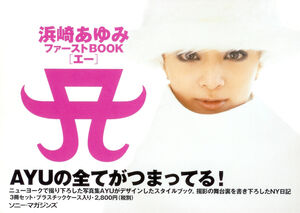 First BOOK: A is Hamasaki Ayumi's first photobook, released on December 10th, 1999.
The release consists of three parts: "A book," the photobook proper, shot in New York City; "Style Book," a post-card style photo collection going into the specifics on each fashion's design; and "2021INNY," a journal of Ayu's photo shoots and business during her time in New York, including shoots for both this book and the LOVEppears album.
The book features fashions designed by Ayu, and each outfit is given a character name. The photobook and its extras are packaged in a clear plastic slipcase.
Book Credits
Edit
Supervisor: Max matsuura (avex group)
Advisory Producers: Ryuhei Chiba, Motohiro Abe (axev inc.)
Artist management: Yuka Kikuchi, Junichi Kamitoku (axev inc.)
Art Direction: Shinichi Hara
Design: Michiho Ogasawara, Shigeru Kasai (RICE)
Editor: Tsuyoshi Ito (Sony Magazines), Masami Kunii
Photographer: Toru Kumazawa
Assistant Photographer: gina
Stylist: Koji Matsumoto (Office an-gel)
Haute Couture: Tadamasa Tagami
Hair & Make-up: CHIKA, TARO (HAIR DIMENSION)
Nail Artist: Kanako Miura (Studio V)
Nail Photo: Kazuki Okabe (Prime Direction)
Special Thanks to Jesse Oba (avex America), Yasuyuki Tomita (avex group)
style design by ayumi hamasaki