Hamasaki Ayumi is a popular singer from Japan, known for her trendsetting fashion, various music styles, and honest lyrics. On a more negative side, she's known among non-fans for having a very "plastic" appearance, and in early years was seen as seemingly unintelligent due to referring to herself in the 3rd person and acting "cute" on television. Her fans are devout die-hards who follow Ayu on tour and collect as much merchandise as possible. She reaches number one on Japan's Oricon charts routinely, has won many awards, and holds several records.
Birthplace: Fukuoka, Japan
Birthdate: October 2nd, 1978
Blood Type: A
Star Sign: Libra
Height: 156 cm (5 ft 1.4 in) (at age 20)
Weight: 40 kg (88.2 pounds) (at age 20)
Favorite Color: White
Names

Birth: 濱崎歩 (Hamasaki Ayumi)
SOS Modeling Agency: 浜崎くるみ (Hamazaki Kurumi)
"Ryuko no Ken": 浜﨑歩 (Hamazaki Ayumi)
Sun Music Talent Agency: 浜﨑あゆみ(Hamasaki Ayumi)
Nippon Columbia: AYUMI
avex trax: 浜崎あゆみ (Hamasaki Ayumi)
Drizzly: AYU
Chinese: 濱崎步, 滨崎步 (Mandarin HYPY: Bin Qi Bu; Cantonese Jyutping: Ban Kei Bou)
Biography
Edit
Early Life: 1978-1992
Edit
Hamasaki was born in the seaside city of Fukuoka, in Fukuoka prefecture, Japan, on October 2nd, 1978. Several years later, Hamasaki's parents divorced.
"[Hamasaki] was surprised to hear a car horn coming from the front yard, and looked out the window. She saw her mother, who was watching a man holding a suitcase walking out the door.... As it happens, she doesn't know what her father looks like. She has never asked her Mommy why her father isn't around. But she knows that the scene... was the moment her parents got divorced, and that the man Mommy was seeing off in silence was her father.":--Ayumi Hamasaki All-Night Nippon: Hamasaki Ayumi is not stupid!, December 1998
"I liked listening to this cassette tape when I was little... I don't remember it very well, but it had a man telling a long story about some animals, like "Mr. Lion is doing such and such." And the background music was like, this elevator music... I loved to listen to it before bed, but I wasn't allowed to do that very often because I couldn't sleep until it was over once I started listening to it. One day, for some reason, I was told that I could listen to it before bed and I was so happy. And even though we usually slept in different rooms, my grandmother was there with me. It was a very happy night for a kid like me, you know? I thought, "Today is special." So I went to sleep, and woke up and looked out the window which faced the street. There was our car, and my mother and father were carrying bags into it, very purposefully. I opened the window and asked 'What are you doing?' and my mom said, 'He says he's going on a business trip.' All I said was, 'Okay, have a safe trip,' didn't say goodbye or anything since I thought I'd see him again soon. I was still sleepy so I went back to bed, and when I woke up again, all of his things were gone." (Was this when you were about 3 or 4 years old?)"I think so.":--Rockin' On Japan interview, Spring 2001
"I don't even know if he's dead or alive. He left when I was so young, I barely remember him.":--Time Asia Magazine, 2002
"I don't know my father's face or name, but somewhere in the back of my mind, I think it'd be nice if I could see him someday before I die.":--Ayumi Hamasaki All-Night Nippon: Hamasaki Ayumi is not stupid!, December 1998
In Hamasaki's early childhood, her mother Mariko (whom Hamasaki calls "Mommy") worked to support the family, and Hamasaki was usually cared for by her grandmother.
"Mommy didn't take care of me or her parents very much. She didn't scold me when I misbehaved, didn't praise me when I was good. She never said anything really. So since my mother was living freely, I believed that I could do so as well. So I didn't go to school very often in junior high.... One day, my teacher called my mom into school, saying 'Miss Hamasaki hasn't been coming into school lately, you need to intervene,' and my mother said 'Of course, I'll come by immediately.' I waited in the office for her, but awhile later my homeroom teacher's phone rang, and my mother said to him, 'I can't come by, I'm having stomach trouble. I'm sorry!' and hung up! My homeroom teacher said, 'I don't know what's going on with your mother, but I feel bad, your life must be so hard!' And what he said really bothered me for some reason. 'How could he say such a thing?' I thought. 'He doesn't know my mother at all!' But I was never angry with my mother for doing things like that. Although the neighbors would talk badly about us all the time. The woman living next door, for example, and the other parents in our apartment building, they'd tell their children not to hang out with me, not to make friends with me. They tried to make me change schools a few times too. But it never upset me.":--Ayumi Hamasaki All-Night Nippon: Hamasaki Ayumi is not stupid!, December 1998
In order to help bring in money, Hamasaki decided to become a model, and she posed in advertisements for the Fukuoka City Bank at age 7.
"To make some money, I just did a bit of modeling in posters for a bank, one localized to Fukuoka...when I was in the third or fourth grade. But money's necessary for living, you know?... A talent scout asked to talk to me. I lived right in the middle of the city, so I saw plenty of talent scouts when I walked around there, just as I see a bunch in Harajuku these days. He talked to me, and then when he called Mommy about it, she said OK to him, and told me to do my best or whatever.":--Rockin' On Japan interview, Spring 2001
Mariko was a more lax parent than those of the other children at Hamasaki's age. Hamasaki was a bit of an outcast due not only to her mother's actions, but also her appearance.
"I was a calm child in elementary school, but I stood out. I was really fair-skinned for some reason and my hair wasn't pure black. Plus, my mother was the type of woman to put a wave in my hair. So here I am, light hair with a wave and pale skin. I already stood out so much from my appearance, I didn't want to attract any more attention... You know, if I'd yelled out alot, while looking like that, I would have gotten too much attention. It was annoying to be seen that way, so I kept calm.":--Rockin' On Japan interview, Spring 2001
"I can sort of remember being on top of the jungle gym, I'm not sure why, but... As far as my family goes, Mommy came home really late at night, and my grandmother had a knitting class that she liked, so there was no one there when I got home... A woman living near my apartment building used to pick me up from school. She had a daughter who was my age, so I'd go home together with her. Otherwise, I'd have to stay at school until I was the only person left there.":--Rockin' On Japan interview, Spring 2001
Aidoru Era: 1993-1996
Edit
At 14, Hamasaki moved to Tokyo and entered a contest to do the voice of Yuri Sakazaki in an animated OVA based on the Art of Fighting game series. She then joined the SOS Modeling Agency,
taking the stage name Hamazaki Kurumi (浜崎くるみ).
Under SOS she appeared in various commercials and had a recurring role in the TV Asahi drama "TSUINZU Kyoushi (ツインズ教師;
Twin Teachers
)." Hamasaki took the entrance exam to enter
Horikoshi Gakuen
, but failed after only the preliminary oral examination. SOS eventually dismissed Hamasaki, saying that she was too short to be a model. Hamasaki moved to the Sun Music talent agency in 1994, changing her professional name to a different spelling of her birth name. She also retook the test to enter Horikoshi Gakuen and this time passed.
"I took the Horikoshi Gakuen entrance exam again. And this time I took a written exam, I didn't have to take a written exam the first time." (It must have been tough to realize that you failed after only the oral exam, wasn't it? -laugh-) "I was so shocked!" (Had you joined a talent agency in Tokyo at that point?) "I belonged to SOS in Tokyo at first. A man working there was friends with someone at Sun Music, and he told me, "Since you're too short do work as a model, I think it would be best if you appeared on TV instead," and then I moved to Sun Music. I knew they were a reliable talent agency, so I knew I'd be able to pass the exam. So then I took the written test and I got into Horikoshi Gakuen." (What was that like?) "Well, I quit not long after starting there." (-laugh-) "Man, I just can't do anything right, can I? -laugh-":--Rockin' On Japan Interview, Spring 2001
(Did you quit school of your own will?) "Yeah. I vaguely remember writing the words "I quit" on a piece of paper and just faxing it.... because I didn't want to see anyone there, like my teachers.":--Rockin' On Japan Interview, Spring 2001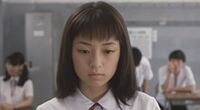 As Hamasaki Ayumi (浜﨑あゆみ), she starred in several TV dramas and had supporting roles in several films, including the critically acclaimed coming-of-age drama,
Nagisa no SHINDOBADDO
(
Like Grains of Sand
), directed by
Hashiguchi Ryousuke
. She also co-hosted the entertainment news program,
HIP
("Hot Information Press") with 22-year-old
Yamamoto Kiyomi
.
"When I was [acting], I hated it. It wasn't fun. Just exhausting.":--Time Asia Magazine, 2002
"The showbiz activities I engaged in at the time were... awful... My job was just to smile in a swimsuit, and I just thought, why am I doing this? But...I lived in the dormitory of the talent office, so I would have had nowhere to live if I quit.":--Rockin' On Japan Interview, Spring 2001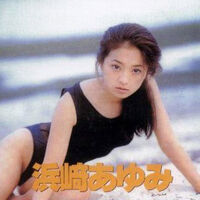 She was most active in 1995, appearing in more than 40 photography, hobby, and fashion magazines. She released a photobook,
Terima Kasih
, and a
photoshoot video
from the publishers of Scholar magazine. She also ventured into music for the first time. Under Nippon Columbia, Hamasaki became part of a unit called
AYUMI featuring DOHZI-T and DJ BASS. Magazines touted Hamasaki as "the youngest female Japanese hip-hop rapper ever." In September, the group released a rap/hip-hop single called NOTHING FROM NOTHING, which only barely charted on the Oricon top 200. The mini-album of the same name that followed in December included only two new tracks and one new remix, and did not chart at all. Nippon Columbia ultimately dropped the group.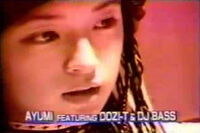 In addition to "NOTHING FROM NOTHING," Hamasaki performed with Tetsuya Komuro on "TK Music Clamp" in 1994. She also appeared on the music program "Idol On Stage," which featured up-and-coming aidoru singing covers of classic J-Pop songs, numerous times.
"I felt like [girls] weren't competing fairly the way boys do... When I'd go with some of the other girls to places like Saipan or Guam... we would go eat with the cameramen and the magazine staff. That was no big deal on its own, but the girls would all pour beer into the guys' glasses, light their cigarettes, make smalltalk about nothing for hours and hours and listen so attentively, except for me. I hated doing stuff like that.... I didn't understand why I had to do those things.":--Rockin' On Japan Interview, Spring 2001
Hamasaki left Sun Music in late 1996 after doing a few more acting jobs, and resigned herself to shopping in Tokyo with her friends. Her mother moved up to Tokyo around that time, and Hamasaki was once again living with her mother, no longer having the option to live in the talent agency's dorm.
"Mommy told me that she was moving up to Tokyo and renting an apartment. I asked her for the address, and I went there carrying all my stuff. I'd quit school and the talent agency, so I asked her, 'Can I live here with you?' and she said 'Sure.' That's about it.":--Rockin' On Japan Interview, Spring 2001
Debut Under avex: 1997-1999
Edit
One of Hamasaki's friends knew the founder of the Velfarre club, avex trax executive Masato "Max" Matsuura. Hamasaki was introduced to him at the club one night when she was in her teens.
"I remember that someone introduced him as the executive director of Avex. He seemed so young though, so I said hello to someone who was next to him, and then he said, 'It's me, actually.' That's how we met.... Awhile later, I met him at a Karaoke house... He asked me, 'Haven't we met somewhere before?' and I said yes. I didn't know what avex was at the time, but I could tell he was important there. I had no idea avex was a record company. That night, I was just singing whatever random songs I wanted to, but he started to keep saying 'sing this one next' to me.... [He had me singing] songs by TK, since that's what was popular. After I sang, he said, 'You don't happen to have plans to be a singer, do you?'":--Rockin' On Japan interview, Spring 2001
"He told me, 'You're not a very good singer, but you have a good voice. Go take singing lessons.'":--Ayumi Hamasaki All-Night Nippon: Hamasaki Ayumi is not stupid!, December 1998
"I said I had no intentions to do that, since I didn't particularly like singing and wasn't comfortable with it. He asked me for my phone number, and I gave it to him. He left some messages on my answering machine but I forgot his name and didn't do anything about it.":--Rockin' On Japan interview, Spring 2001
"When he asked if I wanted to pursue a singing career, I said, 'No way.'" (Why?) "He was this older guy, and I thought the whole thing sounded fishy.... I'd never even heard of Avex, didn't really understand what it was. I thought it was maybe a club. It didn't advertise all the time the way it does now.":--Time Asia Magazine, 2002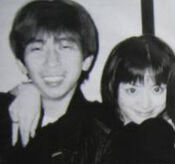 "Eventually, though, I got tired of [shopping and messing around with my friends]... Just as I started feeling that way, he called me again. I'll never forget it, I was walking in the middle of Shibuya... it was the secretary, and she said "This is so-and-so from avex, I'm putting you through to Mr. Matsuura." I noticed that it was the man I'd met before. He said, "It's been awhile. Did you have any thoughts on becoming a singer?" and I said, "Okay, since I'm not doing anything else,"... I thought singing might not be so bad, since I had nothing to do. I went to avex very casually, talked to Matsuura, and went to the vocal training.":--Rockin' On Japan interview, Spring 2001
"Well, I didn't want to go take any classes, and I didn't wanna do any work, but I had nothing better to do so I thought it wasn't a horrible idea, so I took the lessons.":--Ayumi Hamasaki All-Night Nippon: Hamasaki Ayumi is not stupid!, December 1998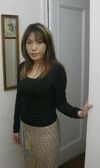 In the summer of 1997, Hamasaki was sent to New York City for vocal lessons under
Harada Mayumi
, a coach who had also trained superstars Amuro Namie, hitomi, and Mochida Kaori before. Hamasaki enjoyed the freedom she experienced in New York.
"New York was a relief—not all hierarchical and rule-bound. I lived in a midtown Manhattan hotel, and walked to the lessons a couple blocks away.":--Time Asia Magazine, 2002
Despite her proximity to the lessons, she did not always attend.
"I hated [taking the lessons]. It was bad. I hate doing things in groups. So I didn't go. But I told the company I was going... I wouldn't even answer my phone because I knew [Matsuura]'d ask about the lessons. I didn't know what to do.":--Time Asia Magazine, 2002
"As you might imagine without me even saying anything, I didn't go to the lessons for very long... I pretended to go to them, though. And I made my debut without any feelings of growth.":--Rockin' On Japan interview, Spring 2001
During her time in New York, Hamasaki would write letters back to Matsuura in Japan. Eventually she returned to Japan. Hamasaki's grandmother, who had virtually raised her and had always been supportive despite Hamasaki's misbehavior, was sick in a hospital in Fukuoka at the time. Hamasaki visited her whenever she could, also coming to sit in a park next to the hospital.
"So the day I left [to return to Tokyo], I said 'Tomorrow I have to record my debut song. So... I have to go home. Day after tomorrow, when I'm done, I'll come back & visit you, so wait for me, okay?' When I said that she cried.":--NTV, Hamasaki Ayumi: Despair and Decision at age 25, 2004
On the day of recording, Hamasaki read the lyrics to the song and was dissatisfied with them.
"So I'd write letters to [Matsuura]. He read them and said, 'Why don't you try writing songs?'":--Time Asia Magazine, 2002
"I'd always been told, 'You can't do anything.'... But then, Matsuura said to me, 'You can.' I had been neglectful in my voice lessons and dance lessons, I was only thinking about playing around, but he said to me, 'You can. You can write lyrics and you can sing songs.' ... it was the first time I'd met someone like that.":--Ayumi Hamasaki All-Night Nippon: Hamasaki Ayumi is not stupid!, December 1998
"No one had ever asked anything of me before, expected anything of me. Part of me was flattered; part of me was terrified but didn't want to admit I couldn't do it.":--Time Asia Magazine, 2002
Resolving to try her best, Ayu rewrote the lyrics to "poker face."
"At first, the song was about a weaker girl. But you can cry anytime, and I wanted to smile at those sad, lonely moments. I rewrote the lyrics over and over, and finally finished the song the day before the vocal recording." --Official website profile, 1998
"When I received the song's tape, I thought 'What a difficult song!' When I made a trial recording with the first lyrics (before rewriting), I hated it. But with the current lyrics, I could feel the song at once... and could sing it better than any other song I had tried. My voice came out naturally and the song became so much mine that I forgot I'd thought it was difficult." --Official website profile, 1998
Unfortunately, Hamasaki's grandmother had passed away the morning of recording, after having slipped into a coma the night before. Hamasaki faxed a letter to her grandmother after recording the song, but got a reply from the hospital nurses that she had passed on.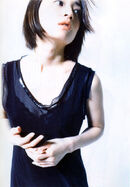 Hamasaki made her official avex debut (this time as 浜崎あゆみ; Hamasaki Ayumi, with the "saki" character slightly changed from her Sun Music stage name) when the poker face single was released on April 8th, 1998. Hamasaki's singles in 1998 never charted outstandingly well, but they sold well enough, and Hamasaki continued work at a furious pace, writing her own lyrics for every song. She recorded her first album beginning that October.
"The songs were sorta chosen by the producers. From a group of dozens of possible songs, the producers chose some, and I would narrow it down to the ones I wanted to do. Since the producers wanted to choose the tracks based on their lyrics, they left that to me. When I was done choosing them, the music flowed in such a way that it told a story about going from the present to the future.":--beatfreak magazine, January 1999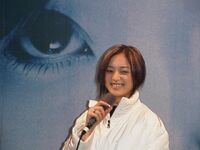 Ayumi Hamasaki's debut album,
A Song for XX
, was officially released on January 1st, 1999. Although the singles had not made a huge impact on the Japanese public, the stirringly honest lyrics of songs like
POWDER SNOW
and
the album's title track
(both used in television campaigns for the album) resonated with listeners, and the album reached number one on the Oricon charts.
"I've often heard people say that they'd been saved or somehow encouraged [by my lyrics]. The more I heard them say that, the more I was concerned with preconceptions people might have, thinking, "Is it my job to save them?" or "It's my duty to encourage them, isn't it?" Sometimes when I tried to do that, I'd end up writing lyrics with the opposite feeling. That's how it would go at the time. Like one time, someone told me my lyrics were uplifting and nice, and I thought, "What are you talking about?":--Rockin' On Japan interview, Spring 2001
Peak: 1999-2001
Edit
Following the release of A Song for XX, the remix compilation ayu-mi-x was released. Hamasaki insisted on a slow, calm Acoustic Orchestra themed disc as a foil to the upbeat Remix Club disc that Max Matsuura suggested. Hamasaki continued releasing singles at a furious pace over the course of 1999 (including A - her best-selling single to date with 1.6 million copies sold), culminating in the release of the LOVEppears album on November 10th.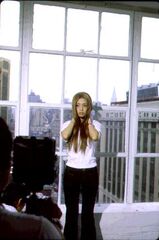 One month later, Hamasaki released her first photo book,
First Book A
, featuring photos of Ayu in New York City, posing in outfits she had designed herself. Each outfit was given a "character" name. By the time
The Trilogy
was released in spring 2000, Hamasaki had become something of a fashion icon.
"During the time between the releases of "vogue" and "SEASONS", I was somehow... very ashamed of myself... Or ashamed of the character, Hamasaki Ayumi... I was ashamed of how stupid I seemed... I've liked clothing since I was a kid. There have always been idol types who were called fashion leaders of their eras, and I would follow them, thinking they were cool for whatever reason. And then I became one of them, and there were girls like me in the magazines, and I would rank first in all those lists like, "What celebrity do you think is the most fashionable?" "Hamasaki Ayumi." Somehow I was ashamed of myself, I wouldn't even go eat in any new restaurants. I didn't want my face to be seen there.":--Rockin' On Japan interview, Spring 2001
On April 28th, 2000, Hamasaki started her first tour, concert tour 2000 A Act 1. This act of the tour was finished without incident, however a bad cold during rehearsals for concert tour 2000 A Act 2 resulted in the postponing of several tour dates, as well as the start of serious ear problems that would plague her for years afterward.
Both tours' DVDs were released on September 27th, in conjuction with the releases of the SURREAL single and the Duty album. The resulting Oricon chart for the week had concert tour 2000 A Act 2's dvd in first place on the DVD chart, SURREAL in first place on the singles chart, and Duty in first place on the Album chart. This was the first time in Oricon history in which one artist topped three charts in the same week. Duty went on to sell approximately 3 million copies, making it her best-selling original studio album to date.
On December 13, 2000, Hamasaki released the winter ballad single M. This was a milestone for Hamasaki as it was her first time publishing a single with music written by herself (under the penname CREA). The single would be her second best selling of the year (behind SEASONS), and her best-selling single preceding the I am... album.
Hamasaki's first Countdown Live, 2000-2001 COUNTDOWN LIVE A, was performed on December 30th and 31st at Yoyogi Stadium. (The DVD would be released six months later.) This would be the first Countdown Live show, something she would continue every year until the present day.
Hamasaki re-released all of her 3" singles as 5" maxi-singles on February 28th, 2001, and occupied the first eight spots of the Oricon singles chart that week. Her tradition of remix albums continued with ayu-mi-x III the same day.
Hamasaki's first best-of album, A BEST, was released in March, on the same day as pop diva Hikaru Utada's second studio album, Distance. In the end, Distance sold more copies, but Hamasaki took the number one spot on the Oricon chart, and the album is her best-selling release to date. The album featured re-recorded and re-mixed versions of several songs, and included the song "Who..." which, while not a single, was a favorite among fans.
"Chapter Two": 2001-2004
Edit
In preparation for the release of A BEST, Hamasaki posed for more than 30 magazine photo shoots.
In September 2001, Ayu was spotted with a ring on her finger, which generated some gossip. She announced then that she had been seeing TOKIO vocalist & actor Nagase Tomoya for some time. They had been seeing each other officially since the summer of 2000, having reconnected after meeting on the set of Twin Teachers back in 1993.
By this point, preparations for Hamasaki's fourth album had begun. She had decided on the album's concept and reserved photo shoot studio space for mid-September. Then, the attacks of September 11, 2001 occurred, and Hamasaki scrapped all her original plans.
Changes In Sound: 2004-2007
Edit
In the summer of 2004, then-president & CEO of avex, Tatsumi "Tom" Yoda, accused executive director Ryuhei Chiba of trying to personally profit from avex business. Chiba denied any wrongdoing, but he and Matsuura both announced that they were resigning. Matsuura said he felt the company had lost its love for music since he founded it, and he wanted to start over elsewhere. Ayu, having been discovered & "raised" as an entertainer by Matsuura, said definitively that if he left avex, so would she. Ultimately Yoda resigned, Matsuura & Chiba returned, and Matsuura took Yoda's post as head of avex. Ayu remained on board under her mentor.
Asia, 10th Anniversary, and Marriage: 2007-Present
Edit
Hamasaki took her tour into Asia for the first time in 2007, giving her audience a taste of fan favorite "Who..." in mandarin Chinese, and including English in her concerts' MC segments.
In late 2010, Hamasaki met Austrian-American actor Manuel Schwarz when he was cast as the character of her husband in the PV for "Virgin Road." They hit it off quickly and several songs written for the "Love songs" album were about him. He accompanied her while she recorded the album in the Los Angeles area. They were married on New Year's Day, 2011.
Hamasaki had initially planned to live with him in Los Angeles, but the March 11th earthquake and tsunami in Japan kept her heart firmly anchored in her home country. The distance proved to be too much for the couple, and they divorced in January 2012 amid something of a media circus.
Hamasaki returned to London around this time to record "Party Queen" with the help of new friend and collaborator, English-Japanese talent, singer, and songwriter Timothy Wellard.
Frequent Collaborators and Associated Acts
Edit
Armin van Buuren
BARBEE BOYS
CUTEMEN
Do As Infinity
Ferry Corsten
HAL
Hamada Miwako
Hoshino Yasuhiko
Kitagawa Jun (CMJK)
Miyazaki Izumi ("Dub Master X")
Nomura Yoshio
Sweetbox
Timothy Wellard
Achievements
Edit
1999 Japan Gold Disc Awards: New Artist of the Year
1999 Japan Gold Disc Awards: Pop Album of the Year (A Song for XX)
1999 All Japan Request Awards: Grand Prize
2000 Japan Gold Disc Awards: Pop Album of the Year (LOVEppears)
2000 Japan Gold Disc Awards: Single of the Year (A)
2000 Japan Record Awards: Best Album (Duty)
2000 Japan Record Awards: Gold Prize (SEASONS)
2001 Japan Gold Disc Awards: Artist of the Year
2001 Japan Gold Disc Awards: Single of the Year (M, SEASONS)
2001 Japan Gold Disc Awards: Pop Album of the Year (Duty)
2001 Japan Cable Awards: Grand Prize
2001 The Japan Record Awards: Gold Prize (Dearest)
2001 MTV Video Music Awards Japan: Best Female Artist
2001 MTV World Music Awards: Best Japanese Pop/Rock Artist
2001 MTV World Music Awards: World's Best-Selling Asian Artist
2001 130 Million People Choose Best Artist Award
2002 Japan Gold Disc Awards - Artist of the Year
2002 MTV Asia Awards: Best Female Artist Award
2002 MTV Asia Awards: Most Influential Japanese Artist
2002 Japan Cable Awards: Grand Prize
2002 The Japan Record Awards: Gold Prize (Voyage)
2002 Oricon Awards: Bestselling Remix Album of the Year (SUPER EUROBEAT presents ayu-ro mix)
2002 All Japan Request Awards: Grand Prize
2002 130 Million People Choose Best Artist Award
2003 MTV Video Music Awards Japan: Best Female Video (Because of You)
2003 MTV Video Music Awards Japan: Best Pop Video (No way to say)
2003 MTV Video Music Awards Japan: Best Live Performance
2003 Japan Gold Disc Awards: Single of the Year (Free & Easy, H, Voyage)
2003 Japan Gold Disc Awards: Rock/Pop Album of the Year (RAINBOW)
2003 The Japan Record Awards: Gold Prize (No way to say)
2003 130 Million People Choose Best Artist Award
2003 All Japan Request Awards: Grand Prize
2003 World Music Awards: Best Japanese Pop/Rock Artist
2003 Oricon Awards: Best Selling Album
2003 Oricon Awards: Best Hit
2004 Japan Gold Disc Awards: Artist of the Year
2004 Japan Gold Disc Awards: Rock/Pop Album of the Year (A BALLADS, &, Memorial address
2004 Hito Awards Taiwan: Best Foreign Artist
2004 Hito Awards Japan: (Moments)
2004 130 Million People Choose Best Artist Award
2005 130 Million People Choose Best Artist Award
2005 Hito Awards Taiwan: Best Foreign Artist
2005 Hito Awards Japan: (my name's WOMEN)
2005 Musicnet Awards: Best Album (MY STORY)
2005 World Music Awards: Best-Selling Japanese Artist
2006 Musicnet Awards: Best Artist
2006 Musicnet Awards: Best Album ((miss)understood)
2006 Musicnet Awards: Best Single (HEAVEN)
2006 Musicnet Awards: Best Concert Video (ARENA TOUR 2005 ~MY STORY~
2006 130 Million People Choose Best Artist Award
2007 Japan Gold Disc Awards: Rock/Pop Album of the Year ((miss)understood, Secret)
2007 Japan Gold Disc Awards: Million Selling Album Artist Card ((miss)understood)
2007 RTHK International Awards: Best Japanese Song of the Year (Secret)
2007 Hito Awards Taiwan: Best Foreign Artist of 2007
2007 Asian MUSIC eXtreme Awards: Best Asian Female Solo Artist
2008 MTV Student Voice Awards: Best Female Artist
2008 MNet KM Music Festival Korea: Best Pop Artist (Asia)
2008 MNet KM Music Festival Korea: Best Concert DVD (Asia) (ASIA TOUR 2007 ~Tour of Secret~ LIVE + DOCUMENT)
2008 Musicnet Awards: Best Artist
2008 Musicnet Awards: Best Album (A BEST 2)
2008 Musicnet Awards: Best Single (talkin' 2 myself)
2008 Musicnet Awards: Best Concert Video (ASIA TOUR 2007 ~Tour of Secret~ LIVE + DOCUMENT)
2008 Hito Awards Taiwan: Best Foreign Artist
2008 Yahoo! Hong Kong Music Buzz Awards: Best International Female Artist
2008 130 Million People Choose Best Artist Award
2009 Japan Gold Disc Awards: Rock/Pop Album of the Year A COMPLETE ~ALL SINGLES~
2000 - Only Artist to have Four Albums in the Oricon Top 10 Simultaneously
2000 - Highest Grossing Artist of the Year
2001 - Highest Grossing Artist of the Year
2002 - Highest Grossing Artist of the Year
2003 - Highest Grossing Artist of the Year
2003 - Only J-Pop Artist to Receive the Best Hit Kayousai Grand Prix Award Four Years in a Row (2000-2003)
2006 - Most Singles Sold by a Female Artist (more than 20 million)
2006 - Japanese Artist with All Original Albums ranked No. 1 Consecutively Starting With Debut
2007 - Best Selling Japanese Solo Female Artist in History
2007 - First Female Solo Artist in 36 Years to Simultaneously Occupy the Top 2 Positions of the Weekly Oricon Album Chart
2007 - Highest Earning Female Celebrity
2008 - Only Solo Female Artist with 30 Number One singles
2008 - Only Solo Female Artist with 40 Top 10 Singles
2008 - Artist with At Least One Number 1 Single for Each of 10 Consecutive Years
2008 - Highest Earning Female Celebrity
2009 - First Artist with At Least One Number 1 Album for Each of 11 Consecutive Years
2009 - First Artist with a Photobook At Number 1 on Oricon's Book Chart
In Her Own Words
Edit
External Links
Edit
Photo Gallery
Edit