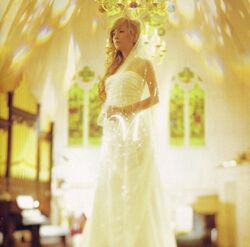 M
is Ayumi Hamasaki's 19th single under the avex trax label.
Release Date
Stock Numbers

Themes
Throughout the song, Hamasaki addresses "Maria". Hamasaki is ambiguous as to the identity of "Maria"; however, she has stated that the song was inspired by a story told to her by a friend about a saint named Mary. The story was pivotal in the shaping of the theme of the song, which, according to Hamasaki, is about a "woman who won't change with time". Finally, like other songs from I am..., Hamasaki explores the topics of couples and love.
Tracklist
Edit
Ad blocker interference detected!
Wikia is a free-to-use site that makes money from advertising. We have a modified experience for viewers using ad blockers

Wikia is not accessible if you've made further modifications. Remove the custom ad blocker rule(s) and the page will load as expected.