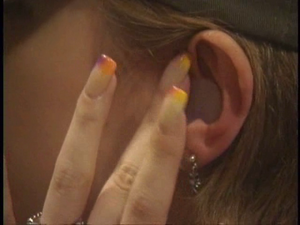 Since mid-2000, Ayumi Hamasaki has gradually gone deaf in her left ear. Despite warnings that she should avoid loud noises and ease up on her touring schedule, Ayu continued at the same pace in the following years. In late 2008, the condition was deemed irreversible by her doctor.
concert tour 2000
Edit
Part way through concert tour 2000 Act 1, Ayu caught a cold accompanied by an ear infection. She spent a few days in the hospital to recover, but did not cancel or postpone any tour dates until Act 2. Her two shows at Yokohama Arena had to be moved from June 21st & 22nd to the end of the tour, August 8th and 9th.
She was warned by her doctor at the time that she needed to ease up on exposure to loud noises so the damage from the ear infection would not be exacerbated. She did not heed this advice, and continued her schedule of at least one tour per year, plus a New Year's countdown concert event and appearances at a-nation each year.
DOME TOUR 2001 & Injury
Edit
During performance rehearsals for DOME TOUR 2001, Ayu began suffering from some kind of ringing or pounding in her ears. As shown in the 2004 documentary Ayumi Hamasaki: Light & Shadow, Despair & Decision at Age 25, the sound was distracting enough to make her forget where she was during a performance of A Song for XX. Ayu was fitted with an earplug but it did nothing to help with the sound.
Ayu's ear infection, now aggravated by the high volume of the concert sound equipment, began to cause dizziness. During final preparation at Fukuoka Dome for the first show of the tour in late June, Ayu fell down a 6 foot deep gap in the stage, between the stage proper and the opening globe prop. A stagehand attempting to help fell down on top of her. The result of the fall was a sprained ankle. Ayu took painkillers and toughed out through the delayed first day of the tour rather than cancelling the show.
COUNTDOWN LIVE 2007-2008 Anniversary
Edit
Just before the Countdown Live concert celebrating the start of her 10th anniversary as a singer, Ayu's ear began bothering her again. To most people, Ayu would say that her new ear monitor was bothering her. But she did express to Mikajohn (friend Noguchi Mika) that she was concerned about the health of her ear.
Before the concert, Ayu went to a doctor and was given the unfortunate news that her ear had gone completely deaf, and there was no treatment that could be done on it. Her response was just to smile, and she posted on her TeamAyu blog a few days later to notify everyone, and to promise to continue being a singer regardless.
count down
Edit
Ayu dealt with her deafness directly in the lyrics to the song count down, on the Rock'n'Roll Circus album. The title refers to her fear that it's only a matter of time before she goes deaf in her right ear as well, and is possibly an allusion to the time of year when she found out her ear's damage was irreparable (during rehearsals for Countdown Live).
Fan Theories
Edit
During a press conference promoting the release of A3D II in Hong Kong in 2011, Ayu is shown on video leaning in the direction of dancer Shuuya to listen to him with her left ear. This has cast some doubt among fans as to the severity of Ayu's condition.
Theories about the exact nature of Ayu's condition have included Meniere's disease and tinnitus as the result of an ear infection. Ayu has never clarified personally.