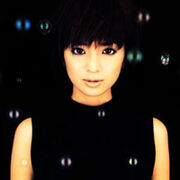 Trauma is a 1999 song by Ayumi Hamasaki which was first released in full on August 11th, 1999 as one of four A-sides on Ayu's 10th single, A. It was later included on Ayu's LOVEppears album in November of that same year.
The song's first appearance was in a TV commercial for JT Momo no Tennensui, which had aired in June 1999.
The song and its accompanying para para dance were concert staples in the earlier years of Hamasaki's career.
Original Version
Edit
Running Time: 04:17
Lyrics: Ayumi Hamasaki
Music: D.A.I
Arrangement: Naoto Suzuki, D.A.I
Keyboards: Naoto Suzuki
Programming: Takahiro Iida
Additional Programming: Tatsuhiko Fuyuno
Guitar: Jun Kajiwara
Mixed by Steve Churchyard
Appearances: A, LOVEppears, A BEST
Other Versions
Edit
Eurobeat Mix (04:40)
Edit
Remixed by Dave Rodgers & Albert Contini
Appearances: SUPER EUROBEAT presents ayu-ro mix
Heavy Shuffle Mix (06:10)
Edit
Appearances: A, A Remixes side TYO
Instrumental (04:17)
Edit
Music: D.A.I
Arrangement: Naoto Suzuki, D.A.I
Keyboards: Naoto Suzuki
Programming: Takahiro Iida
Additional Programming: Tatsuhiko Fuyuno
Guitar: Jun Kajiwara
Mixed by Steve Churchyard
Appearances: A
JamX & De Leon's DuMonde dub (07:09)
Edit
Remix and additional production by JamX & De Leon for JMX Music Productions, Koblenz, Germany
Appearances: Promo Vinyl
JamX & De Leon's DuMonde remix (03:52)
Edit
Remix and additional production by JamX & De Leon for JMX Music Productions, Koblenz, Germany
Appearances: Cyber TRANCE presents ayu trance
Thunderpuss Club Instrumental (06:53)
Edit
Remixed by Thunderpuss (Thunderpuss is Barry Harris and Chris Cox)
Remixed at Thunderpuss studio, North Hollywood, California
Appearances: the other side THREE
Thunderpuss Club Mix (06:53)
Edit
Remixed by Thunderpuss (Thunderpuss is Barry Harris and Chris Cox)
Remixed at Thunderpuss studio, North Hollywood, California
Appearances: the other side THREE, Trauma remixed by Thunderpuss
ThunderDUB (05:56)
Edit
Remixed by Thunderpuss (Thunderpuss is Barry Harris and Chris Cox)
Remixed at Thunderpuss studio, North Hollywood, California
Appearances: the other side THREE, Trauma remixed by Thunderpuss
Thunderpuss remix (03:45)
Edit
Remixed by Thunderpuss (Thunderpuss is Barry Harris and Chris Cox)
Remixed at Thunderpuss studio, North Hollywood, California
Appearances: ayu-mi-x II version US+EU
Thunderpuss Tribe-A-Pella (06:50)
Edit
Remixed by Thunderpuss (Thunderpuss is Barry Harris and Chris Cox)
Remixed at Thunderpuss studio, North Hollywood, California
Appearances: Trauma remixed by Thunderpuss
YUKIHIRO FUKUTOMI REMIX (07:00)
Edit
Remixed by Yukihiro Fukutomi
Re-production & Programming: Yukihiro Fukutomi
Harmony-analizing & Additional programming: Takeo Sasada
Recorded & Mixed at HEARTBEAT RECORDING STUDIO by Yoshiaki Ohnishi
Recording Assistant: Naoya Tokunou (HEARTBEAT RECORDING STUDIO)
Appearances: ayu-mi-x II version JPN, ayu-mi-x II version JPN (Analog)
Performances
Edit
Concerts & Events
Edit
concert tour 2000 A Act 1
concert tour 2000 A Act 2
countdown live 2000-2001 A
DOME TOUR 2001 A
ARENA TOUR 2002 A
STADIUM TOUR 2002 A
A museum ~30th single collection live~
ARENA TOUR 2003~2004 A
Count Down Live 2004-2005 A
COUNTDOWN LIVE 2005-2006 A
PREMIUM COUNTDOWN LIVE 2008-2009 A
COUNTDOWN LIVE 2010-2011 A ~do it again~ (as part of a medley)
Television
Edit
[1999-08-17] VELFARRE Channel-a
[1999-09-02] Utaban
Translation
Edit